Art-S Line (Intensive Solution) Super Nano Molecule Fat Reduction Skin Lifting
Art-S Line (Intensive Solution) Super Nano Molecule Fat Reduction Skin Lifting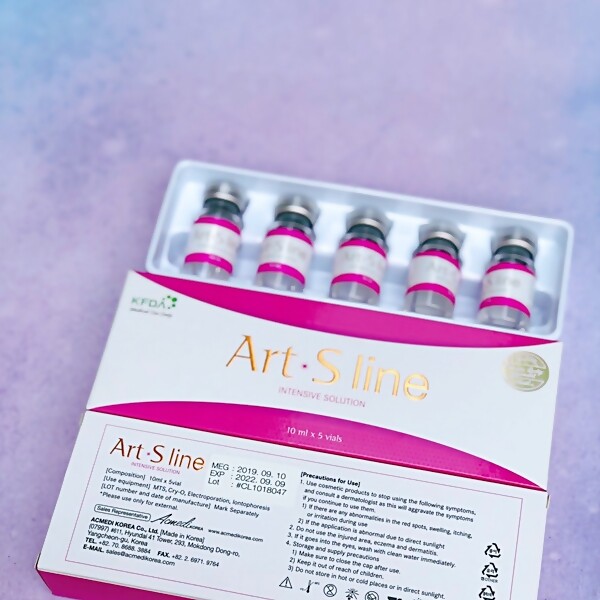 Description
Condition  : New 100%
Size        :   10 ml x 5 Vials
Quantity   : 1 Pc
Art- S line (Super Nano Molecule,
Art- S line (Made in Korea) #artsline
Developed another step with Super Nano Molecule technology "Art-S line (Art- Supper Nano line)". Absorbed and distributed drug thoroughly. Faster and better than the old Art-line with many natural ingredients. And the key ingredients are Aesculus Hippocastanum Extract, Centella Asiatica Extract, designed especially for mesotherapy. Makes the results of the work to see very well And the most effective Without the effects of traditional mesotherapy. Tearing down the rules for making all those suffering tortoise Without pain, not swelling. Important. Fat quickly collapsed. Art- S line intensive solution can reduce the appearance of cheekbones sticking out. And also improve the double chin Sagging cheeks and square faces to shape and reshape the chef, S-Line body, the face to maintain a V-line face
Fat reduction innovation And the latest skin lifting For lasting results And permanently within a short time Clear results from the first time Fat decreases continuously.
- No need to exercise
- No pain / No stinging / No swelling
- Does not cause allergies
-No YoYo
- Not resistant
- Chemical free
- No preservatives
Directions for use:
Art-S Line (Intensive Solution) Art-S Line is a type of water injection to dissolve fat on the face and all parts of the body such as cheekbones, chin, upper arms - legs, abdomen, calves, arms. The injection amount depends on the individual's fat. And expert discretion, as the Art-S Line mainly consists of natural components Therefore can be injected in large quantities and without limit Which the injection area will be firmer, smaller, clearly visible from the first time
Care after injection Art-S Line
1. Drink at least 2-3 liters of water per day for 2 weeks continuously to stimulate excretion.
2. Massage in the injection area
3. Abstain from fermented foods and alcohol for at least 1 week.
4. Steam / Stream sauna as usual
5. Should follow the advice of doctors strictly.
Recommendation: should be under the supervision of a specialist For the most effective results And injected at the actual fat point
ingredient:
Aqua,
Sodium chloride,
Aesculus Hippocastanum Extract,
Broadleaf Liriope Extract,
Camellia Sinensis Leaf Extract,
Centella Asiatica Extract,
Glycyrrhiza uralensis FISCH Extract,
Polygonum Cuspidatum Extract,
Scutellaria Baicalensis Extract,
L-tyrosine
Packaging: 5 bottles, each bottle contains 10ml
Fat reduction innovation + the latest skin lifting !!! For lasting results And permanently within a short time Clear results from the first time Continuously decreasing fat by 1-3 inches in 2 weeks
✅ No need to exercise
✅ No pain / No stinging / No swelling
✅ Does not cause allergies
✅ No Yo Yo
✅ Not resistant
✅ Safe