L-B5 Complex ( Germany) Vitamin-B5 Lose Weight Slimming Eliminate Cellulite
L-B5 Complex ( Germany) Vitamin-B5 Lose Weight Slimming Eliminate Cellulite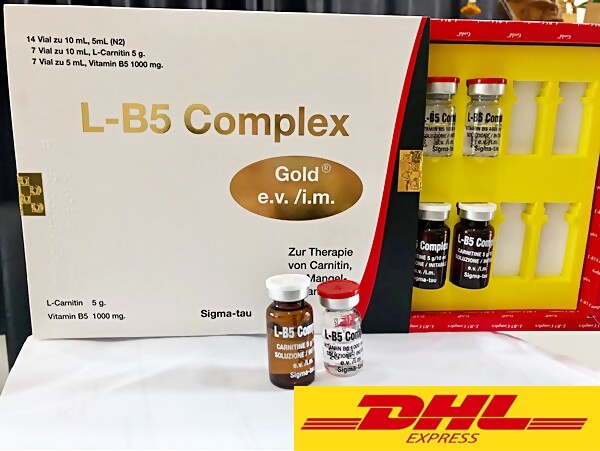 Description
Condition  : New 100%
Size        :  Lcarnitine 5000mg = 7 Bottles (10 ml)
                   Vitamin B5 1000mg = 7 Bottles (5ml)
Quantity   : 1 Pc
Product Details:
L-B5 Complex (Germany) lose weight, fat, reduce fat, reduce body fat Eliminate cellulite Orange peel skin, firm skin, not sagging Guaranteed to see results
Hot !!!!!! L-B5 Complex is for those who need it. Slimming Eliminate cellulite, orange peel skin, prove yourself Particles with Vitamin B5 can be injected 2 times a week for as long as you like. L-B5 Complex dissolves excess fat throughout the body. Or want to reduce only parts German products that are waiting to help get rid of excess body That is undesirable, with immediate results, whether the breakdown of fat throughout the body Or want to reduce specific areas such as upper arms, thighs, abdomen, hips. In addition to helping to break down excess fat, L-B5 complex also helps to nourish the hair. And the skin is beautiful, smooth, and maintain the balance of the body
Injection method:
Injected 1 set at a time, intravenously (I.V.), 2 times a week consecutively until achieving satisfactory weight
(Fixed weight) stimulant every 1-2 times a month or take L-carnitine tablets to control weight
Ingredient:
L-carnnitine 2 g.
Vitamin-B5 500 mg.
Packing size 7 Set