Unicity Bios Life C Vitamins Dietary Fiber Helps Reduce Cholesterol 60 Sachets
Unicity Bios Life C Vitamins Dietary Fiber Helps Reduce Cholesterol 60 Sachets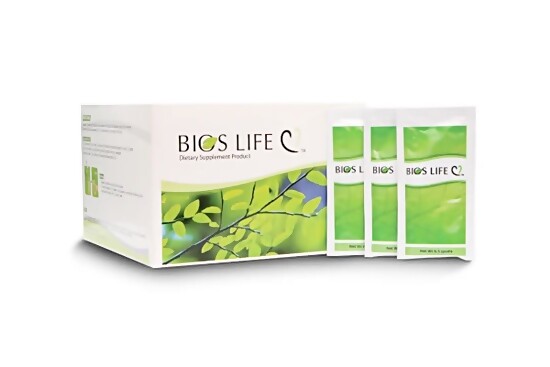 Description
Condition  : New 100%
Size        :  1 Box Of 60 Sachets
Quantity   : 1 Pc
Bios Life C is a nutrient-rich fiber drink mix that contains a beneficial patented complex of soluble and insoluble fibers, vitamins and minerals.
ADVANCE FIBER & NUTRIENT DRINK
Features & Benefits:
Each packet contains fiber (a proprietary matrix of soluble and insoluble fibers)
It is to control your appetite while nourishing your body with important nutrients needed
It contains antioxidant vitamins
It supplies key nutrients such as Beta-Carotene, Calcium, Zinc and a complex of B Vitamins that promote the body's overall health and well-being
RECOMMENDED USE
MIX
Mix one packet with 250ml of water, juice, milk or comparable beverage.
DRINK
Stir vigorously or use shaker cup. Drink immediately.
PRODUCT INFORMATION
For more than a decade, Bios Life 2® has literally been saving the lives of hundreds of thousands of people across the globe. However, with deaths caused by cardiovascular disease increasing each year, Unicity scientists sought an even better champion in the fight against unhealthy cholesterol levels. The revolutionary answer is found in Bios Life Complete.
Bios Life Complete is the ONLY fiber and nutrient drink that combines all four of the known approaches to lowering harmful cholesterol. This patented approach:
Helps to block re-absorption of cholesterol in the intestinal tract
Helps to block absorption of cholesterol which comes directly from food after digestion
Reduces the cholesterol produced by the liver
Enhances enzymatic breakdown and removal of LDL (bad) cholesterol
In a recent study, Bios Life Complete was proven to lower LDL cholesterol for participants with high LDL levels by 31%. Some participants reported decreases of up to 52%. Overall reductions, including participants with fair or better LDL levels averaged over 20%.
Additionally, the average increase of HDL or "good" cholesterol in those participants with low HDL levels was 29%, with some achieving increases of up to 85%. Average increase, including those with normal HDL levels, was 25%.
FEATURES & BENEFITS
Clinically proven to lower LDL cholesterol, while increasing HDL cholesterol, Bios Life Complete is quickly becoming THE standard in the fight against harmful cholesterol levels.
Furthermore, Bios Life Complete has proven effective where statin drugs have failed. Often, over a period of time, people taking statins discover that their cholesterol remains at a level higher than they (and their doctors) were hoping to reach. Hope is now available. Recent clinical studies have shown that when taking statins in combination with Bios Life Complete, the "statin floor" is broken and cholesterol levels are reduced by an additional 20%. Talk to your doctor about Bios Life Complete before use if you are taking any cholesterol-lowering medication.
Features and benefits of Bios Life Complete:
-      Proven to reduce LDL cholesterol levels
-      Proven to increase HDL cholesterol levels
-      Helps manage appetite naturally
SCIENCE
Cholesterol is a waxy substance found in the bloodstream and in all your body's cells. It's normal to have cholesterol. It's an important part of a healthy body because it's used to build new cells, insulate nerves, and produce hormones.
One type of cholesterol is low-density lipoprotein or LDL. High levels of LDL (bad cholesterol) increase the risk of cardiovascular disease. The American Heart Association states that when too much LDL cholesterol circulates in the blood, it can slowly build up in the inner walls of the arteries that feed the heart and brain. LDL cholesterol can form plaque, a thick, hard deposit that can clog those arteries.
The other type of cholesterol is high-density lipoprotein or HDL. Your body makes HDL cholesterol (good cholesterol) for your protection. Studies show that high levels of HDL cholesterol reduce your risk of cardiovascular disease.
Bios Life Complete effectively works to decrease the level of LDL cholesterol while increasing the level of HDL cholesterol through its patented, natural formula. Listed below are the active ingredients responsible for Bios Life Complete's effectiveness:
Soluble and Insoluble Fibers – trap cholesterol in the GI tract
Phytosterols – decrease absorption of cholesterol from food
Policosanol – reduces cholesterol synthesized (produced) by the liver
Chrysanthemum Extract – enhances the enzymatic breakdown of cholesterol and, therefore, increases the removal of cholesterol from the body
Bios Life Complete is protected by U.S. Patents 6,933,291, 4,883,788, 4,824,672. U.S. and international patents pending.
NOTE!!! Because the shop sells products cheaper than the company set. We must cut the dealer barcode out .Therefore informed the customer to understand